HVAC Unit Cleaning
Back To Our Services
We Keep the Air Flowing
Over time, parts of your heating, ventilation, and air conditioning system such as broken or missing insulation on boilers and pipes, or even faulty filters may need to be replaced. Our team of experts knows how to keep the air flowing well, at the correct temperature, and free of debris. When you give us a call, we will asses your system to find what needs to be repaired and we will advise you on the best available solutions. We'll also provide you with energy conservation tips to keep your system at its best for as long as possible. So, if something is off, you know you can depend on us to deliver quick and effective services at a good price. Your comfort is important to us!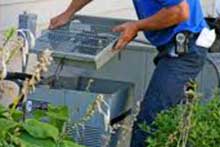 We Offer Complete Care And Cleaning
Heating and cooling systems consist of several parts, all necessary for optimal air quality, temperature control and circulation. Our professionals offer the best prices for maintenance services to keep your space safe and comfortable. Our cleaning and maintenance services include everything from boiler inspection to ensuring the control valves are working properly! Our professionals are experts in maintaining and cleaning all parts of an HVAC system, so that your system runs at its full potential. Don't risk damaging your HVAC system, call us for maintenance and cleaning today!
How Clean Is The Air You Breathe?
Air ventilation systems need periodic assessment to make sure that the air quality is what it needs to be. Our experts can help! Our team has expertise in conducting comprehensive tests for air quality, including anything from testing for leaks and fan rotation to preliminary field inspection, system observation, and air measurements! When every part of the air ventilation system works as it should, it circulates the optimal air quality through your space, providing a safe, comfortable, and clean environment.
Call Us Today!
Don't hesitate to get clean air circulating through your space! Call us today to speak to a specialist and schedule your appointment at a time suitable to your schedule!